Welcome to the Bevill and Associates LLC Professional and Forensic Counseling Secure Client Area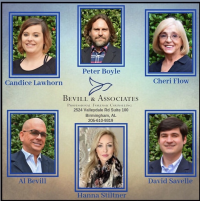 Bevill and Associates Response To COVID-19

Updated March 17, 2020

Like many of you, we are continuously monitoring developments in the ongoing situation regarding COVID-19 (Coronavirus). We wanted to take this opportunity share our preparation and readiness steps. All our actions are guided by the overriding principle that the health and safety of our clients and our employees is our number one priority. We will continue to track the situation daily and follow the guidance of local governments and health officials for the areas that are impacted.
During this time of uncertainty and National Emergency our country is experiencing, we are here to continue providing counseling services. Our number one priority is to ensure the health and safety of our clients and employees With this being said, beginning March 18, 2020, we will only offer online live video counseling, our office will be closed for in-office counseling sessions. This will remain in effect until March 30, 2020.

We appreciate your trust in us in allowing Bevill and Associates to meet your counseling needs. On behalf of our entire team, We want you to know that you can continue to rely on us to do our best to continue to meet your counseling needs.
Log in to the secure portal. If you have not received an email with a username, please Register.